In the fourth quarter, shares in companies in developed markets (UK, US etc) continued to rally. This provided investors with the third calendar year in a row of strong positive returns. Fixed interest (Government Bonds, Corporate Bonds, etc) returns over the quarter were somewhat flat, as markets digested rising inflation and less accommodative policy from central banks.
The emergence of the highly infectious Omicron variant led to a spike in equity market volatility at the end of November. However, markets quickly recovered as data from South Africa and the UK indicated a lower risk of severe disease. Current corporate strength and the prospect of higher earnings in 2022 outweighed the risks over the quarter.
However, the fear of a weaker future growth backdrop, partly due to projected interest rate rises and reductions in bond buying, led to a flattening of the US yield curve. Small caps also underperformed large caps over the quarter as uncertainties about future growth weighed on their performance.
In the US, President Biden signed the Infrastructure Investment and Jobs Act, a long-awaited $1.2 trillion bipartisan infrastructure bill. The bill includes $550 billion of additional spending. 49% of this will be allocated to upgrading America's transportation sector, including ports, airports, railroads, roads, bridges, and public transport. 32% will be used to improve water and power infrastructure. The remainder will be spent on broadband (12%) and the environment (7%). The ambitious Build Back Better spending bill ($1.7 trillion) didn't muster a majority in the Senate in December. However, private sector fundamentals look solid enough to carry US growth next year. The strong performance of financial assets and real estate has pushed the ratio of US household liabilities to assets to its lowest reading since 1973. This, along with still elevated savings, gives the consumer significant firepower in the coming years.
In Europe, an unreliable supply of Russian gas, falling investments in thermal energy and maintenance work on nuclear power plants led to a sharp rise in gas and electricity prices across the continent before falling towards the end of the quarter. Higher energy prices are adding to the rise in inflation. CPI rose to 5.1% year-over-year and the unemployment rate dropped to 4.2%. A new record in job vacancies of 1.2 million is a clear indication of increasing labour market tightness that could cause further wage increases, potentially causing further price increases. The Bank of England reacted by raising interest rates by 0.15% to 0.25%, despite the rapid spread of Omicron.
Inflation is also an issue outside of Europe. In December, three of the four major developed market central banks indicated that they have greater concerns about inflation than the Omicron variant. Government bond markets were mixed over the quarter as markets priced in a faster pace of interest rate hikes.
How have your portfolios done?
Our portfolios focus far more on the longer-term view than the shorter term. They do not ignore it, but we focus far more on managing risk than we do reaching for returns. Our portfolios are now more than nine years old and have gone through a full market cycle. As you can see below, they have outperformed the average wealth manager and managed fund since they started: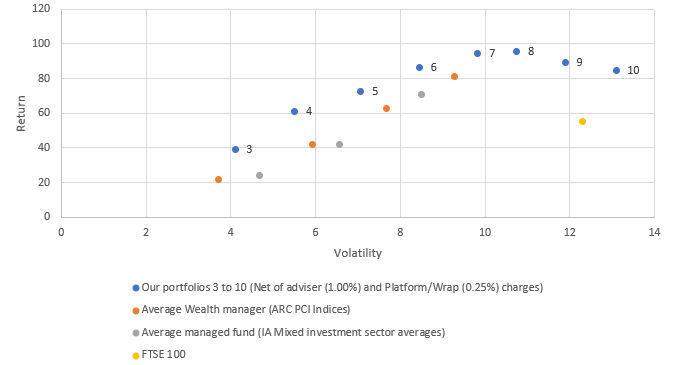 Over the last year our portfolios have slightly underperformed on a risk-adjusted basis with the riskier, and more concentrated, portfolios significantly underperforming: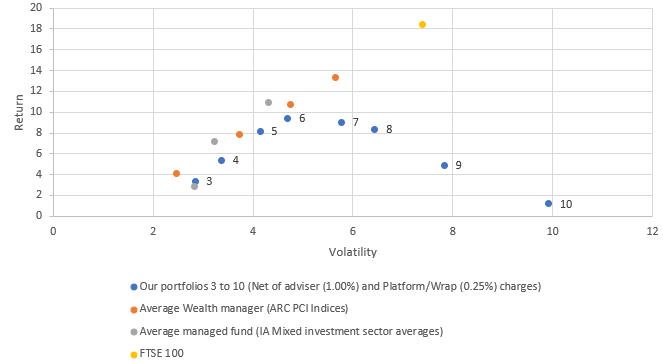 All data taken from Financial Express.
You should be aware we do not look to outperform each year. We stick to a set level of risk and refrain from trying to time the markets. Over the short term, this may lead to underperformance, especially when others decide to take more risks which could backfire. Over the long term, our investment process should help our clients get suitable returns.
For more information about our portfolios, you can find the factsheets here and a summary of how we put them together here.
Be aware that past performance is not an indicator of future returns. Markets can go down as well as up.
Do you need some help with deciding how best to invest? Feel free to book a free no-obligation chat here.